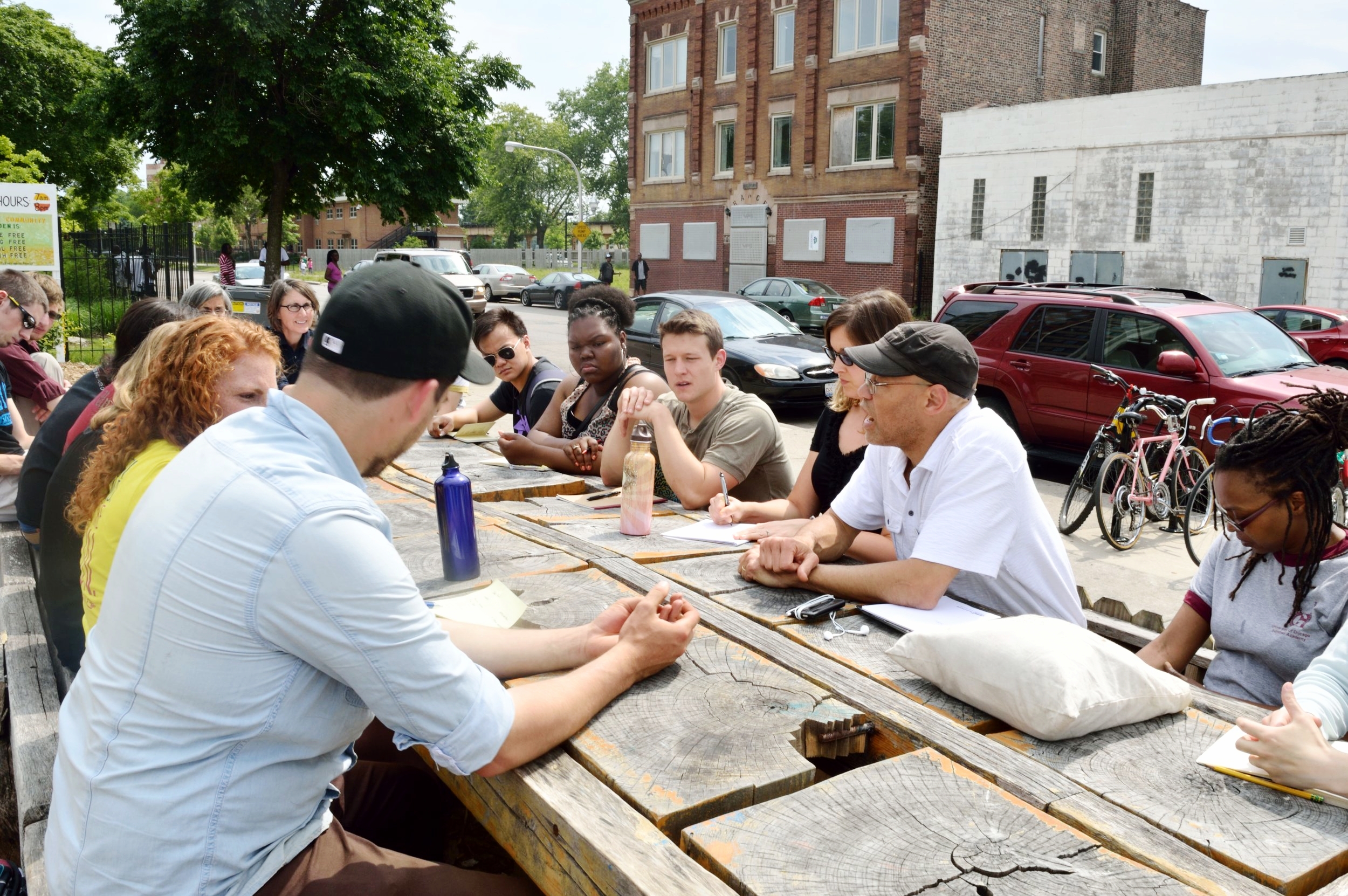 Civic Projects is a hybrid design practice.
CIVIC PROJECTS
We are a Chicago-based architecture practice with a focus on social impact. Our approach to design is highly participatory, going beyond architecture to engage in grant-writing, strategic planning, pre-development, and revitalization on several scales. Civic Projects works closely with clients and local organizations to develop work that invigorates neighborhoods. Through visioning sessions, community workshops, and in-depth research, we facilitate a process that brings all of our stakeholders to the table.
Our team is skilled in architecture and other design practices, providing us with breadth and depth of experience. For each project, we bring collaborators well-versed in strategy development and stakeholder engagement, as well as problem-solving. We are currently engaged in a wide variety of projects: including our collaboration with Ralph Appelbaum Associates on the Obama Presidential Center Museum, the strategic planning and programming of the Chicago Torture Justice Center, and the development of quality housing on the South Side of Chicago.
Civic Projects believes in each project's potential to catalyze activity and strengthen local bonds. Our unique approach to design results in projects that are deeply embedded in communities, long after construction has ended. Read more about our process here.
(Civic Projects is a Certified Minority and Woman Owned Business)
Monica Chadha | AIA, LEED AP
Monica Chadha is a LEED-certified, licensed architect with over 20 years of experience in the design profession. She is founder and principal of Civic Projects, an architecture practice with a focus on social impact. Prior to starting her firm, she served as founding director of Impact Detroit and led project teams at both Studio Gang and Ross Barney Architects. During that time, Monica was integral to the design of award-winning, civic scale buildings, such as the Champaign Public Library and the University of Minnesota Duluth's Civil Engineering Building.
Outside of Civic Projects, Monica serves as co-chair of the Sensible Growth Committee of the Metropolitan Planning Council, as a Strategic Consultant for Archeworks, and is on the Board of the Delta Institute. She has been an Adjunct Professor at the Illinois Institute of Technology since 2007, engaging students in social impact design practices. In 2010, she was recognized as an Emerging Leader by The Design Futures Council, and in 2013, she was featured in the inaugural Public Interest Design 100 list of leaders. She holds a Masters of Architecture from the University of Illinois at Chicago and a Bachelors of Environmental Studies in Architecture from the University of Waterloo, Canada.
Jacob Chartoff
Jacob Chartoff is a licensed architect with more than 15 years of experience in architecture and project management. He brings an extensive range of skills to Civic Projects. While serving as the Staff Architect and Director of Campus Planning and Construction for Columbia College Chicago, Jacob was responsible for designing and facilitating the construction of spaces that translated the institutional brand, mission, and strategic goals of the College into usable, fiscally-responsible, and aesthetically-minded environments.
While at GLUCK+, he led the project team for the design of The Stack, an award-winning, prefabricated apartment building in New York City. Comprised of fifty six modules that were fabricated off site, the seven story building was delivered and erected over the course of a few weeks. As an architect at Landon Bone Baker Architects and Wheeler Kearns Architects, Jacob collaborated on multi-family residential, high-end residential, and institutional projects. Jacob is a contributor to MAS Context, a quarterly journal that addresses issues affecting the urban context. He was one of the founding members of the Wabash Arts Corridor, which utilized public art in urban spaces to transform the South Loop.
Jess Monigal
Jess Monigal is an architectural designer with experience in schematic design, historic preservation, and educational architecture from previous internships at Bauer Latoza Studio and Harding Partners. While at Bauer Latoza, she was involved in the production of as-built drawings for Chicago Public Schools, as well as the condition assessment of campus buildings at the University of Chicago. Her work at Civic Projects includes diagram production, drafting of permit sets, and workshop facilitation. Recent projects have included developing workshop material for Chicago Torture Justice Center and the Obama Presidential Center Museum Design Team.
As a collaborator of CANDO, Jess designed and manages their most recent project – a public repository of minority and woman-owned businesses in the City of Chicago. The site is intended to encourage better workforce diversity on construction projects by simplifying the search process. Jess holds a Bachelors of Architecture degree with a concentration in Architectural History & Theory from the Illinois Institute of Technology.
COLLABORATORS
Our collaborators bring expertise in urban planning, education, sustainability, and policy; enriching each project with their specialized knowledge and contributions. Combined with our commitment to quality design and architecture, our collaborative practice results in projects that are deeply embedded in their context and communities.
Abby Hamlin (Hamlin Ventures, LLC)
Abby Hamlin is a real estate developer and civic thinker. In 1998, she founded Hamlin Ventures, which remains one of a handful of successful woman-owned development companies. Prior to forming Hamlin Ventures, Abby was President of Swig Weiler & Arnow Management, a premiere commercial real estate company that developed, owned, and managed 8 million square feel of office properties in New York City and San Francisco. As an active civic leader, she is a board member for the Downtown Brooklyn Partnership and has led several of its public design initiatives.
Clement Blanchet (cBA)
Clément Blanchet is the founder and principal of Clément Blanchet Architecture (cBA) and a former Associate of the Office for Metropolitan Architecture (OMA) in France. During his 10 years of collaboration with Rem Koolhaas, Clément contributed to the development of OMA in Europe and led several award winning projects for the firm. Founded in Paris in 2014, his firm Clément Blanchet Architecture has worked on major projects such as the R&D Center for Carrefour, a new mixed-use complex for Georgia, and the French Pavilion for Expo 2020 Dubai.
Sharlene Young
Sharlene Young is the principal and owner of Symbiotic Living Architecture and Design. For more than 25 years, Sharlene has worked with clients to enrich their lives through her designs and the built environment. After graduating from Cornell's School of Architecture, Art and Planning, Sharlene spent time working with industry giants such as Gary Lee Partners, The Environments Group and Perkins and Will. For over 12 years, Sharlene was the Interior Practice Lead at Wheeler Kearns Architects in Chicago. Based on the mission to achieve design excellence through the perspective of wellbeing, Sharlene's firm focuses on both residential and commercial office projects.
Mark de Groh
Mark de Groh is founding principal of Re:public Good, a San Francisco-based impact advisory firm pursuing full implementation of the United Nations' Sustainable Development Goals (SDGs). He helps investors, governments, corporations, and NGOs deliver on SDG indicators while maximizing bottom line returns for their stakeholders. An expert on regenerative design and partnership formation, he leverages a network rare in depth and diversity to marshal financial and social capital for his clients and the public good. An urban historian and spatial theorist by training, he holds degrees from Ohio State and Princeton University.
Norman Teague
Norman Teague is a South Side-based designer and educator focused on design projects that address the complexity of urbanism and the history of communities. Specializing in custom furniture and delivering a personal touch for each client that adds unique aesthetic, Teague's past projects have included consumer products, fashion, public sculpture, performances, installations work, and specially designed retail spaces. Teague worked with Theaster Gates on 12 Ballads for Huguenot House, which enabled material transferred from a South Side Chicago vacant building to transform the abandoned Huguenot house. He is a cofounder of the teen Design Apprenticeship Program at the University of Chicago's Arts Incubator.
OPC Chicago Museum Design Team
The Obama Presidential Center Museum Design Team includes several firms and collaborators.
Photo: Renata Graw, Norman Teague, Monica Chadha, Jen Park, Amanda Williams, Andres Hernandez.
CURRENT AND PAST COLLABORATORS
Dana Taylor
Mary Patera
Shreya Minama Reddy
Tarek Alhariri
Minjung Ku
Cas Esbach
Brian Haymes
Andrew Vesselinovitch
Chang Hong
Jungsik Kim
Kyeore Lee
Jennifer Doty